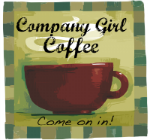 Welcome back Company Girls. It is late, way to late for me to be drinking coffee, but I had to say hi. Our family has spent two glorious weeks of nothing, a bit of traveling and visiting, but otherwise we have stayed home and just enjoyed hanging out.
Which brings me to
Rachel Anne's Company Girl Coffee
topic for today, favorite moments during Christmas. Every year my favorite moments are hanging out with our families, immediate and extended. We talk, play games, let the kids run wild (thank goodness it warmed up over Christmas and the kids could run their wildness in the wild, and not in the house.) As busy as all our lives are during the year it is nice to have these days when we don't expect anything from each other except spending time together.
I also enjoyed my children and continuing to establish our family traditions. As they grow older it is easier to create, and stick to, these traditions (partly because they remember and won't let me forget their favorite ones.)
When we went to the pottery paint store to paint ornaments Hubby and I were able to paint our own ornaments while the kids painted theirs. In years past we hovered over the kids, providing them with supplies, encouragement, and a strong hand to keep them seated and away from the shelves of (very breakable and expensive) pottery items. I must say, as the kids get older I find myself breathing easier and relaxing more.
For more stories and pictures from our Christmas head over to,
Crafts and Cookies ... Check
(an example of me relaxing more) and
Christmas Memories
.
But now Christmas is over and the New Year has come. Made more evident by the fact that most of our Christmas decorations are packed up and Hubby took the tree to the dump this afternoon. Now my question it, how long can I keep up my wreath, the lighted garland outside, and snow related decorations?
Yes, I'm adopting
Rachel Anne's resolution
"to do one 'extra' thing each day". Today we boxed up those decorations, cleaned up the floor and put everything away. I have my living room back, talk about breathing easier. Though I may be sweeping up pine needles and popcorn for some months to come.
How was your Christmas? I can't wait to hear about it. I bet not many tops Rachel Anne's. I'm still smiling over her news (and each smile sends out a prayer.) If you haven't heard the news then you need to head over
there
NOW. (It is a two parter and I'm sending you to Part I so don't forget to look for Part II.)
Here is to 2009!
Happy New Year