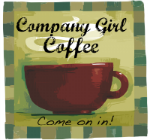 Last week I shared some of the
parental sayings
we us around our house, and some we may have heard growing up.
And, thank you to everyone who shared your family favorites.
Well, this past week I added one more to my list:
"Life is not this hard."
First, the kids were whining, because I wouldn't let them watch TV.
Studies say children should not watch more then 2 hours of TV/computer/video games. Yes, at one point this week, I quoted the above to the children.
Then, JT was whining about the lack of snack options (or that I wouldn't allow him to pull out the reserves, saved for vacation, from the pantry.) So, he began to open, and stare in, all the cupboards, the fridge, digging through the baking cupboard.
It is a snack. You get what you get, and you don't throw a fit.
A new phrase was born: "Life is not this hard."
I used this phrase again, the next day, when they were whining about being bored, no toys, blah, blah, blah.
(OK, my kids are sounding really whinny. Sorry about that.)
Then I said it. I said that phrase, we as children, hated hearing. The phrase, as parents, we tell ourselves we will never use:
"There are children in this world without toys!"
:::sigh:::
Yes, we are coming to the end of summer vacation. One more month, which includes a much needed vacation, for everyone.
The new statement also got me thinking, am I making life too difficult?
If JT wants to dig through the baking cupboard, and bake something, shouldn't I allow him? And, before leaving the kitchen (for the sake of my blood pressure) inform him that any mess will be HIS to clean up.
I should note that he didn't want to bake anything. He wanted to make a chocolate smoothie. I should have sent him to the computer to find a chocolate smoothie recipe. Oh wait, he had completed his 2 hours of media time.
Where is the line? When do I let the kids go, let them bake, or let them ride their bike around the neighborhood. Essentially, give them more freedoms, for their development maturity, and for my sanity.
Parents of older children, please pass along your wisdom to the rest of us. My children are no longer toddlers and preschoolers. They need more responsibilities and room to move, I need my sanity, will I find it by giving them more freedom?
And, after leaving a comment, head over to
Home Sanctuary
for more
Company Girl Coffee
.