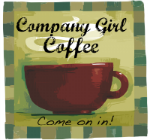 Welcome
Company Girls
,
Would you like something hot or cold to drink? The heat has returned to our neck of the woods, but I'm still drinking the hot coffee.
Parenting, in general, is uncharted territory; everyone's experience is different. However, there are a few common experiences we all understand, are embarrassed by, and laugh at ... like repeating the sayings our parents used on us.
I think all of us have heard at least one of these, growing up, and in turn used it on our children:
If I wanted to yell, I would have. I asked you to go TELL your sibling dinner is ready, not yell from here.
If all your friends jumped off the bridge, would you?
This will hurt me, more then it hurts you.
What does that mean?
Because I said so!
It's not the same thing.
My Mom's favorite argument ending comment, when there was no other explanation to give.
Then, there are the ones you may have invented, just for your family. These are some of my favorites:
I'm just mean that way.
Because I'm Mom.
And, that is why they call me Mom.
My personal favorite to end arguments, even with Hubby, when I have no better argument, other then I'm being irrational. If we can't pull the "mom card" then what is the use?
What are your favorite "parenting" sayings? Are they passed down, through the generations, or new, specifically designed for your family?
After leaving a comment, head back over to
Home Sanctuary
and enjoy some more coffee (hot or cold) with Rachel Anne and the other Company Girls.