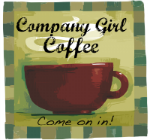 Good morning Company Girls. It is good to be back and talk with you. Due to life, life always seems to get in the way of, well, life, I've been absent from the Company Girl circle, for awhile.
This is only a quick stop, as I will need to leave soon. Yesterday, I (finally) was called to sub at the kid's school, as library clerk, which is a half day gig. At the end of the day they asked me to return today. It is not a bad way to spend your afternoon, checking in and returning books to the shelves. It is fun to be around the kids, many I already know since they have been in the same classes as my children.
The school year has passed it's half-way mark, and I am looking around the house wondering "have I accomplished anything this year"? See, this is the first year all 3 kids are in school, full time, and my goal was to finish painting (haven't done it), clean out closets (a few), and job hunt (where do you begin?).
I need some motivation, and maybe give up Facebook for Lent. Ideas, help, words of encouragements, oh, and job offers, I'll also take those;)
Well ladies, it is time for me to head out. Thanks for your help, I always enjoy hearing from you. Later today, I hope to make it around to everyone else's blogs, it is always so much fun to sit and read about all the other Company Girls.
Now, when you leave, head back to
Rachel Anne's for more Company Girl Coffee
time. Also, as she requested, I'm adding this link for the blog hop. OK, I confess, I'm not sure what I'm doing here, so I will link it as told, and see what happens.
Happy weekend everyone.
Powered by Linky Tools
Click here
to enter your link and view this Linky Tools list...