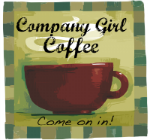 Hello Company Girls. Long time, no visit. All my fault, I'm sorry. Life keeps moving, and sometimes I can't keep up.
The kids have now been in school for several weeks, and I am finding my groove as a stay-at-home mom, with no kids at home. Last week I was a professional volunteer at the kid's school. This week has been about cleaning. Next week? We shall see what happens.
The last time I visited, for some coffee, was right before our vacation to Canada. We travel to a camp, north of Toronto (
Marie
, I waived as we drove through Toronto.) It is beautiful up there. We love the family time, the peacefulness, and the relative isolation of the area. (Though still a short distance from a Tim Horton's, Walmart, and a windshield replacement shop. You can read more about that
here
.)
The kids run free (and wild), and the parents can talk to other adults. Ah, the luxury.
Here, the air truly is fresh country air; not what we call fresh country air at home, in our farming community, when the manure tractors are out.
The camp is run by the Anglican Church, and many who attend the camp grew up in the Anglican Church, and may have remained, or have moved on.
It always comes up in discussions. Hubby and I, being Mennonite, and from the US, tend to raise a couple eyebrows, and several questions. Hubby grew up in the Mennonite Church. I grew up Church of God, General Conference; which most people have never heard of so I clarify that it is close to Baptist. Sprinkle in some visits to a Catholic Church with my cousins, and other churches heavy on the usage of litany, and I feel right at home during the camp's prayer time and services.
Hearing people's church story; how they grew up, church wise, and where they find themselves now always fascinate me. (I didn't say "faith" story, but they are also interesting, and very much intertwined with one's search for a church/denomination.)
So, my question is, who are you? Maybe you grew up in the church, and have since left, or vice versa. Maybe you grew up in one denomination, or even faith, and have moved to a different one. Maybe you are where you have always been. What is your story?