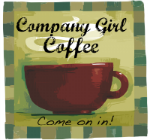 Welcome
Company Girls
, and guests. Would you like some coffee, lemonade, along with some fresh fruit. One of my favorite parts of summer is the available fresh fruit.
So, before I explain the title of this posting, I have a confession. I have not been following along with the Small Things. And, now that summer has officially arrived, and the kids are out of school, I fear not much cleaning, nor organizing, is happening around here. And, I am at peace with that (a big step for a
Type A personality
to accept.)
At the end of this summer, all three children will be in school, full time, and my first few acts as an empty nester, per se, will be to clean out closets and deep clean the house. Oh, and painting. Otherwise known as stalling the job hunt.
Now, to my question. If you are part of a church, does your church have adult Sunday school classes? And if they do, and if you are a part of a Sunday school class, how does your class sit, in a circle or in rows?
Crazy questions, I know.
While sitting in a building committee meeting at our church (we are needing to renovate an old building which is now used for adult SS classes and an after-school child care program) it was noted that most of our SS classes sit in circles, lending to a more discussion type class, and therefore the classrooms needed to be larger in size to accommodate a circle of chairs. Except for, maybe, one class, where most participants are retired pastors, they sit in rows. We seem to be the church where retired seminarians come to worship, at least enough of them and their spouses to create their own SS class.
We are
Mennonite
, so I wondered if sitting in a circle was more of a Mennonite "thing." My only reference is my parent's SS class which sits in rows, and they are
Church of God, General Conference
.
Then again, it may be a generational thing.
Another observation was made, that mainly Mennonite churches are the only churches allocating space for adult Sunday school classes. Many other churches are moving towards a small group model for adults, and holding children's Sunday school during church.
Crazy questions, but the whole discussion got me thinking about other denominations. Maybe, it is a blogger thing, every little comment makes the gears churn, thinking of how to make this into a post. Kind of like taking pictures. When you blog you suddenly take pictures of EVERYTHING!
Thanks for stopping for
Company Girl Coffee
. For more Company Girl chatter head over to
Rachel Anne's at Home Sanctuary
.