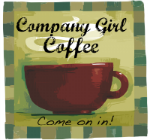 Hello, my name is Erin, and I'm a recovering Type A.
"Hello Erin."
The other weekend I was faced with THE worst case scenario, I couldn't find my date book. It was lost!
It was left behind, at the high school where EM's recital was held.
(I still have no idea how it fell out of my purse. It isn't little by any stretch of the imagination.)
My date book. My life. My family's life. All written in that mid-size black book, and it had disappeared.
Upon that realization I took a deep breath. Then several more.
"I will not panic, I will not panic, I will not ..."
For awhile that worked, and then I panicked.
As Sunday progressed I braced myself for the inevitable, I may not find it. The high school is large. The auditorium was probably used several times over from Saturday night to Monday morning. It could have been thrown in a lost & found box, not found at all, carried off (because all those free ice cream coupons at McDonalds and knowing my refrigerator water filter number are real valuable.)
Monday morning I strolled into the office, crossing my fingers, and asked my question.
"Yes, we have it."
Praise The Lord!!!! Not only had it been found, it was being kept with care in someones office.
I breathed again. I jumped for joy. I then began searching for 12 step programs for Type A's.
Do you think they will make me hand over my label maker?
Are you an incurable Type A'er, or maybe you wish you had a few more of those personality traits?
And for more
Company Girl Coffee
, head over to
Rachel Anne's at Home Sanctuary
.