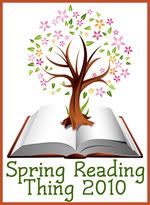 Summer is here, in a big way. We went for a family walk/bike ride last night and it felt like August, in the middle of June. And, we need rain. Our grass is brown and our flowers are not looking pretty. A normal look around here in August, but it is June.
Sorry, I digress.
Reading! Spring Reading Thing! Book Lists!
This latest reading challenge went by quickly, and I read slowly. However, thanks to several weekends away I was able to finish part of my list. Which I'm happy with since my list consisted of all non-fiction, not everyone's favorites.
The first book read, and finished was
Play by Play: Baseball, Radio and Life in the Last Chance League by Neal Conan
.
Here
is a quick description, and the disclaimer that I DO NOT like baseball. However, I did enjoy the book.
Next was
My Life as a Furry Red Monster by Kevin Clash, with Garry Brozek
. This is a quick and fun read by Elmo's puppeteer.
After breezing through that I moved onto a heavier read,
Fair Game: How a Top CIA Agent Was Betrayed by Her Own Government, by Valerie Plame Wilson
. This story intrigued me from the moment it became news, and while it remained in the news for several years. While reading the book you need to remember that this is one side of the story, which is actually refreshing since what played out in the news seemed to be a second side.
Now I'm reading
Eats, Shoots & Leaves by Lynne Truss
. And, I'm learning a lot, and I've only made it to the first chapter. In order to remember everything I'm reading (all the rules and how they are used) I may need to start taking notes.
What is left on my list?
Living to Tell the Tale by Gabriel Garcia Marquez
. Will I have a chance to read this? I'm not sure. From the reviews I've read I need to be in a certain state of mind to tackle the book, and I haven't been there recently.
What am I reading this summer? Other then "Eats, Shoots & Leaves." More non-fiction, yipee skipee. The ADHD books are piling up, along with our frustrations as parents, and our son's frustrations with this label and what it does to his brain. We are needing some tools to figure all this out, and break some really bad behavior patterns (or at least improve them), hopefully before the start of school.
I'm sure there will be several fun, fiction books between the heavy duty ones. In fact, I have one in the mail (
Mennonite in a Little Black Dress, by Rhoda Janzen
) and I'm saving it for our vacation later this summer.
What will you be reading this summer?