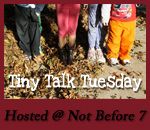 While visiting my parent's one weekend the boys enjoyed a Nerf sword duel with my parent's neighbor. The setting for the duel became
The Chronicles of Narnia
(guess what we've been listening to recently), however the dialogue sounded more like
Monty Python
.
"I'm not dead yet."
"I can still fight you, with out a leg and an arm, and a ..."
My sister-in-law and I were hysterically laughing, the kids did not understand the humor.
Then, there was the part where JT asked for the neighbor's daughter's hand in marriage. He verified that his asking was just pretend, that it was part of the story.
At least part of his story. I'm thinking we need to work on when it is acceptable to ask for his future wife's hand in marriage, and during a sword duel with the father would not be the perfect time.
---------------------
Then there is this comment he made:
"Ah, I got a little romance in the picture."
After taking this picture:
If this is JT's idea of romance then Hubby and I need to turn it up a notch.
***An apology to Hubby: Sorry! This picture is far from pretty, it is far from flattering. However, the comment JT made, while looking at the picture he just took cracked me up.
For more Tiny Talk Tuesday head over to
Mary's at Not Before 7
.