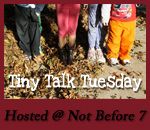 By EDH
(written by ED, sometime last year. This is typed, I think JT typed it for him. They printed out the page and then cut out the print, taped it to construction paper, and stapled the pages together in book form. The "biography" is two pages long.)
First Page:
A biography of ED. By EDH
Second Page:
I am ED. I like robots. GO JEFF GORDAN! I like to play the drums and I like my Mom and Dad and i like my brother JT and cordy.
Thats it good by.
For my
Tiny Talk Tuesday
head to
Mary's at Not before 7
.