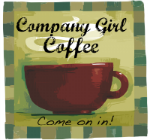 Welcome, come in, shake off the snow... Yes, snow. We are being hit by the second large snowstorm this winter.
We live just south of the Mason Dixon line. We get just enough snow and cold weather during the winter to satisfy my love for snow and cold. However, TWO LARGE snow storms in one season? We are lucky to get two in a decade, this is crazy.
To add to the crazy the kids have been home all week, for much less snow then this; which means there may or may not be a little extra something in my coffee today.
With the amount of snow they are predicting it is nice to know our kitchen is stocked full of food. Yesterday I, and the kids, braved the crowds as we set out for a food shopping spree of massive proportions; not because of the snow but because friends were planning on staying with us this weekend.
Planning, but postponed due to snow.
We were hoping to all be snowed in together, and all the kids were excited to play in the snow, but that will all need to wait till later this month. Hopefully we will still have snow.
Instead, our little family of 5 is planning on a cozy weekend at home, with lots of food, craft projects, games and movies. At the moment the house is quiet with two napping children, one child working on a school project (no school, but school projects still need to be completed), one husband playing on his computer and I am typing a way on mine.
As soon as I've wrapped up this post I will be moving on to my "Snow Weekend To Do List", which will most likely include some baking, to give to neighbors as we ask them to borrow their snow blower.
I'm sure some of you, who live in an area used to large amounts of snow, are laughing at us. You know who you are, you live in an area that doesn't even plow the roads, you just drive over the snow and pack it down. And canceling school for snow, who heard of such a thing. Yes, well, we will be lucky if the kids return to school at all next week. :::sigh:::
Are you receiving snow this weekend? Maybe you are looking at a forecast of 80 degrees and sunny. Either way, what do you have planned this weekend?
For more Company Girl Coffee head over to
Rachel Anne's
at
Home Sanctuary
.