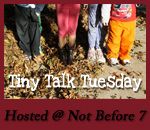 This past weekend Hubby and I enjoyed a weekend away with our Sunday school class. A weekend of food, friends, sleep, and more foods, ... and no kids.
My parent's
were brave enough
graciously took all three kids for the entire weekend. The kids were bouncing off the walls over the prospect of staying with Gran and Grandpa for a whole weekend, without Mom and Dad. Here is a recap of their favorite moments from the weekend.
EM: We got to watch TV at night
ED: Roasting marshmallows and wieners outside, on the fire
JT: Going to the park and riding the razor. I rode more laps then Grandpa.
(Not sure I correctly understood him since the razor is some miniature car contraption. Come to think of it I've never seen this contraption and beginning to wonder what my 8-year-old is driving around the park.)
---------------------------
The Sunday after Halloween (C.A.N.D.Y.) we were watching TV after supper, and passing around the candy bowl ... one piece each. Hubby was holding the candy bowl and helped himself to a second piece when EM turned around.
EM: Daddy, what are you doing?
Me: What is Daddy doing?
EM: He is sneaking!
(Oh yes, and he and I have been sneaking candy since then.)
Happy
TTT
. For more fun head over to
Mary's at Not Before 7
.