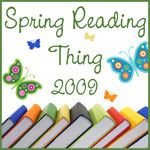 I can't believe we are at the end of this year's

Spring Reading Thing

. As the saying goes, so many books, so little time.

This time around I only finished half my list. Now in my defense an extra book, or two, was slipped in. JT and I have been enjoying the Box Car Children series, and with his ADHD diagnoses I've been reading several behavioral management related books.

So, here was my original list, the completed books are crossed out.

The Jane Austen Book Club

, Karen Joy Fowler

Mr. and Mrs. Darcy

, Alexandra Potter

- *Presently Reading

Austenland

, Shannon Hale

Captain Wentworth's Diary

, Amanda Grange

Mr. Knightley's Diary

, Amanda Grange

Confessions of a Jane Austen Addict

, Laurie Viera Riglere

Never Have Your Dog Stuffed

, Alan Alda

Play By Play

, Neil Conan

Leap of Faith: Memoirs of an Unexpected Life

, Queen Noor

A Woman After God's

Own Heart

, Elizabeth George

*This is only half crossed out because I'm only half way through it ... go figure. I started a new Bible Study at our Church, Beth Moore's

Living Beyond Yourself

.


Oh, well that list looks a little better then I originally thought. There are only three books I haven't started yet. Well, that leaves plenty of reading material for the summer.

My favorite book from the list was

Leap of Faith

, by Queen Noor. Queen Noor is an American born, former wife of King Hussein of Jordan (he died in 1998.) Over the years I had seen her in the news and she intrigued me. I mean, how does an American born, Princeton graduate become the wife to a king of a small Middle Eastern country.

She answers those questions, plus many more regarding Middle Eastern politics. It was interesting to read how King Hussein had dedicated much of his life on Middle East peace. Several stories do not place the U.S. government, nor our society, in a positive light, but it is a side we need to realize other's see, understand, and face up to.

Sorry. Climbing off my soap box now. After reading the book I read several reviews written on

Amazon

and

Paperback Swap

. I was a tad frustrated by those who were completely put off by her analysis on the United States. Remember, there are two sides to every story.

Anyway, I'm back to my Jane Austen theme, with Me and Mr. Darcy. I will probably finish the other books on my list and then pick up Neal Conan's

Play by Play

. Neal Conan is an NPR host (the name of his show escapes me at the moment.) He took a summer off one year and worked as an announcer for baseball. Why am I reading this? Not sure. I am not a baseball fan. But, I had heard an interview with him when the book first came out and my interest was peaked. We shall see how it goes.

If it doesn't go very well, that is OK. My reading pile keeps growing. Again, so many books, so little time.

Until

Callapidder's Fall Into Reading

,

Happy Reading.