Like the shamrocks? February has come and gone and it was time for a new blog layout.
After Valentine's Day I was tempted to change it back to snowflakes, but was beginning to feel spring fever and wanted to celebrate spring, or anything other then snow and cold. Since it is March and I'm part-Irish it seemed appropriate to post the shamrocks. And they weren't snowflakes. I love winter and the snow, but there is a point one reaches when it is time to move onto a warmer season.
Ha! I may want to celebrate the coming of spring but that doesn't mean winter is over. The kids were home today, and so was Hubby (yah!), and the kids have a 2 hour delay tomorrow thanks to the snow storm hitting the east cost this weekend. Now, if you live in valley or follow my blog you know that it
doesn't take much to close schools
.
So, the amount of snow we received wasn't a lot. But it was cold. So cold I wouldn't let the kids go out and play, which is always hard when there is snow on the ground. Hubby did take them out to shovel the driveway, and the neighbor's, this afternoon. It was cold! Thankfully the wind had died down while they were out, but every bit of them was covered. All you could see were their little eyes peeking out between the coat and the hat. Except for ED who ventured outside before being "mommy approved."
But spring is near. Thank you
Katrina, at Callapidder Days
, for bringing spring into my home while the wind chill made the temperature outside below zero.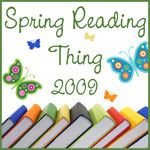 Yes, the
Spring Reading Thing
is coming, March 20th. Yeah! So dust off those books. Gear up your list. What better way to spend spring then enjoying the warm rays of the sun, outside, with a good book. And then you get to brag about reading it.
Haven't joined in before. Give it a try. And you don't need a blog to join. So mark your calendars, March 20th, the reading begins.