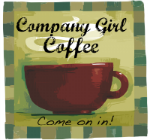 Welcome to Company Girl Friday. Grab your favorite drink and visit for a bit. Sorry to say I can't stay long. I almost didn't post today, but had to take a minute to visit with the
Company Girls
.
As I'm typing I'm woofing down my lunch, half a bagel with peanut butter (it is 2:00pm). Really, the only reason I'm eating anything at this point is so I can drink another cup of coffee and not get the shakes.
I just finished making the gifts for my kid's classmates. Chocolate covered pretzels. Now I knew chocolate could be temperamental; for that reason I don't melt it in the microwave and many times over I have learned to NOT mix it with extract. So I had it melti
ng on the double burner and I thought it would stay smooth and melted with a consistent source of heat ... um no. I think the problem was that I melted a pound of chocolate at one time. Slow and steady wins the race.
But the gifts are done. Don't they look delish? Oh, and colored sugar does not do so well on chocolate after it dries. Thought the pretzels would be all glittery, instead the sugar looks dried up and cracked. Live and learn ladies, live and learn.
Well I need to go, finish my bagel and infuse myself with some more energy drink (aka coffee.) The ironing is calling my name, finish folding clothes, still do my devotions for the day, get the kids off the bus and supervise them cleaning their bathroom (happy Friday), clean up the kitchen and make dinner. I invited my mother-in-law over for dinner and though she cares less about the state of my kitchen or my house I care.
Oh, when do we get over our need to create the perfect picture?
Don't forget to
celebrate today
. I am celebrating the fun in getting ready for Christmas. I've started my Christmas baking, almost done with our cards, we have a guest for dinner tonight, and we get our Christmas tree tomorrow.