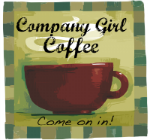 Greetings!
I've been absent from Company Girl Coffee for the past couple
months
weeks. It has just been one of those weeks, for many weeks.
The chaos is not ending anytime soon, it is just that time of year with the end of school year activities, field trips, recitals, festivals, and other spring activities happening around town.
This weekend we have a dance recital, which is preceded by the dance recital rehearsal, a party or two, or three, a company picnic, and small group, and church, and sports, and ....
Someone stop this ride, I'm ready to get off.
I think the last time I shared I was headed out of town for a girlie weekend. Here is a snapshot from that weekend:
Enjoying a Saturday morning hike, up hill, both ways. At least we burned the calories from breakfast, and then felt less guilty about eating all we ate for lunch, during the afternoon, and then dinner.
Painting! Finally, here is a finished picture of my long talked painting project. Hopefully, you can see the stripes.
I opted to paint stripes, using the same paint color but with different sheens. It took several weeks, but at least the stripes are done.
Unfortunately, nothing more then the stripes have been completed.
There is still the trim to paint, the bathroom to paint, the pencil marks to erase, and touch ups. (Tip: When using painters tape on newly painted walls, you will want to use the blue tape for "Delicate Surfaces.")
As much as I would like this project completed, and the paint cans, ladders, and drop clothes out of my bedroom, there were (and still are) other projects to complete around the house. Other projects, like laundry, cleaning the house, and tending to the garden, and feeding children, and purchasing a new refrigerator.
Oh yes, when I returned from my girl's weekend we discovered that our refrigerator was on a fast track to non-working. Not the way I envisioned spending a large chuck of money, but I'm at least grateful we had the money to purchase another one.
Sorry, I digress. Back to painting.
The bathroom was started, but not finished. And, I'm not doing stripes.
Apparently, I also need to change a light bulb in the bathroom. Hubby has off today, so I'm hoping I can lock myself in our bedroom and finish the painting, or at least complete a large chunk of it.
At least that was the plan, but it won't be happening.
The first weekend of May Hubby and I participated in our local Relay for Life. It was a glorious night, one of the last warm, and dry ones, before the cold and rain moved in.
Last weekend was packed full. First we said goodbye to a couple in our Sunday school class. They are moving to Bolivia, (her home country) where they will adopt a young boy. We gathered Saturday evening to wish them God speed.
Sorry, not a picture of the couple. Instead I picked a generic picture of the kids playing. 1.) Because, if I had posted a generic picture of the adults someone would have said that was a bad picture of them. 2.) I wanted to point out that I'm not playing with the little kids. I'm not standing over there watching the little kids.
My kids are all too old for such supervision. My youngest was entertaining the even younger kids. In fact, half the evening I didn't even know where my older kids were. OK, I'm not sure that was the best example ... but parents who find themselves out of that young child stage know what I mean.
Ladies Tea:
Last week, into Sunday, was a whirlwind of activity as my committee and I organized our church's Ladies Tea.
The menu was strawberry shortcake, herb spread on bread, hot tea, and lemonade. The week before I was dreaming of crumbly shortcakes, rotten berries, melting whip topping, lost linens, and broken teapots.
None of those things happened. In fact, the only thing that went wrong was that I forgot to iron my skirt.
It seemed everyone enjoyed the afternoon.
And once it was over I was able to think again, think about anything and everything, other then strawberries and tea.
Well, there is a recap of the past few weeks in our house. Busy, busy, busy. But seriously, I'm not sure I would want it any other way.
Are you also finding this time of year on the crazy side of life? What is happening this weekend?
Thanks for stopping by and allowing me to share my pictures. For more
Company Girl Coffee
head over to Rachel Anne's at
Home Sanctuary
.