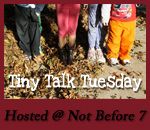 Lord have mercy.
My oldest has gotten it into his head that I should have another baby. He has asked if I am having another baby. He has said I should have another baby.
I don't know about you, but when kids start talking like this I become a little worried. Especially when they start praying. When kids begin talking to God, well things can happen. Not that I'm opposed to them talking to God, and things happening ... just not if it includes me and 9 months of weight gain.
Oh dear, I'm in trouble now.
For more
Tiny Talk Tuesday
head over to Mary's at
Not Before 7
.