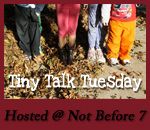 My kids love books on tape, or CD.
The only problem is they like to listen to the same story over, and over, and over again.
And suddenly a 4 hour CD becomes very short.
Presently they are listening to The Lion, The Witch, and The Wardrobe. (They have also moved onto The Magician's Nephew. We could listen to them all but I'm reserving these CD's as a prize for JT after he reads each book.)
The kids have been off school for 2 weeks straight due to snow. We have listened to A LOT of The Lion, The Witch, and The Wardrobe. A LOT I tell you!
Now the kids are trying on their British accents. LOL! I wish I still had my British accent to pull out at such times, unfortunately it has been long lost, and theirs is not even close.
Then they try to talk like Aslan. They walk around the house saying "... and He Beaver and She Beaver..." in a deep voice, or as deep as a 7-year-old can go.
Oh, and then there is a part where Aslan tells the woodland creatures to take the Daughter's of Eve to the tent and "... to minister to them." In the context given it sounds like a day at the spa, and after these past two weeks a day at the spa, even given by woodland creatures, sounds good, very good to me.
For more
Tiny Talk Tuesday
head over to
Mary's at Not Before 7
.