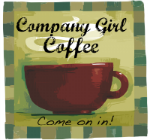 Good morning Company Girls. Enjoy a cup of coffee and sit down. We are once again bundling up; a new cold spell has moved into our area, and they are calling for snow this weekend.
Once again I bypassed the
Small Things
this week, busy trying to clean house, organize the basement and paint trim. YES! Yesterday I pulled out the paint cans and started in on the kitchen trim.
That means I have no pictures to share of little decorative changes made around the house. What I do have to share is a post I began writing at the beginning of the month. It seemed fitting to share this during a
Company Girl Coffee
.
And when you are done reading head over to
Rachel Anne's at Home Sanctuary
for more
Company Girl Coffee
.
In the past 6 months I have witnessed the hand of God on two family's who live in our area.
Being several times removed from both families I witnessed these traumas from afar, only imagining the pain I would feel if it was our family; and as a spectator their stories are not mine to tell.
What I also witnessed during these times was the strength of community, through the power of God, and that is the story I want to share.
The power of God runs deep and strong, and there is no force which can stop it. In fact, what has been demonstrated in our community is that when you allow in God, people can do amazing acts. When a community of God comes down on their knees amazing healing takes place that leaves one breathless.
Friends and family have come together, set aside their personal time and needs to support a person in need, whether it is staying all night, all day, all week, at the hospital. Watching children, making or fielding phone calls, making meals, updating blogs, or just bending down on their knees to pray.
The stories coming out of Haiti are another example of God's glory and power. Stories of now-homeless people coming together to form their own community; those with food sharing with those without, protecting the weaker and younger ones from danger, the outpouring of support from the world, and the stories continue.
All these are powerful stories, but we need to remember that a tragedy does not need to happen to serve God. We can serve God on a daily basis through small things, all we need to do is look beyond ourselves. A simple hello, an offer to babysit so a mom can go shopping, inviting someone over for a meal, or taking them a meal.
Leave a comment offering some simple ideas for how we can serve God by serving those around us.