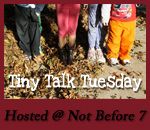 Driving one night with JT in the car he started talking about what he would do when he becomes president. Here is his list:
Stop war
Lower taxes and lower health care costs
Make cars safe
Everyone pays less for electric and water
Prevent forest fires
After hearing all his campaign promises (honestly, this list came voluntarily from his mouth, the boy just talks) I asked ED and EM.
ED: There shall only be bikes. Trains and subways are OK, and planes. Motorcycles and cars are a little dangerous. But, there will still be race cars.
EM announced she would be a princess, not president ...
this conversation
sounds vaguely familiar. So, as a princess...
EM: Just sitting around in my room wondering what to wear.
When I asked her again if she wanted to be a princess or a president she announced
EM: I just want to be a girl. (you can't argue with that.)
Happy
Tiny Talk Tuesday
. Visit Mary's at
Not Before 7
for more TTT fun.