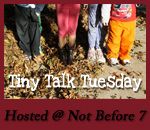 My children crack me up; what they say, what they do, it is never ending.
EM: When I grow up I'll be a cookbook.
(Have absolutely no idea where that came from, but since she announced it I figured I would ask the other kids.)
Me: ED, what do you want to be when you grow up?
EM: Do you want to be king?
ED: No, I don't want to be king.
Me: Why not?
ED: I can't be a king, we don't live where there are kings.
(Smart kid ... sometimes)
ED came to the top of the stairs, carrying his bedside lamp in one hand and the plug in the other hand.
ED: Mom, my light needs a new bulb, it doesn't work, see. (He turns the switch on and off.)
Me: ED, the lamp needs to be plugged in for it to work.
Later that day ...
Me: ED, did you plug in your lamp?
ED: Yes.
Me: Does it work?
ED: Yes.
(oh, if only all problems were that easy to solve.)
For more
Tiny Talk Tuesday
head over to
Mary's at Not Before 7
.