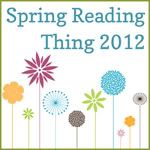 Oh. My. Word. It cannot be the first day of spring.
This has completely caught me off guard, much like the time change a couple weeks ago. No, seriously, I am still waiting for winter. My internal calendar runs on 4 seasons, not 3 and not 2, there must be 4. This past winter season has been, basically, nonexistent. My internal calendar is still waiting for 30 degree weather and a couple snow days, with actual snow, lasting more than 4 hours.
With that all said, I am still forming my list for the
Spring Reading Challenge
. Did I mention that the fact that today is the first day of spring has caught me off guard? There is also the fact that my list, lately, has become a mishmash of books due to my foray into the 21st century. I finally bought an e-reader. After buying the Kindle, I do believe my Facebook post read "Hello 2007, ..." Despite Hubby's techy credentials, I run behind the technology curve.
With the Kindle came the discover of
Pixel of Ink
, a website that posts free, and discounted, books for the Kindle. Since January I've been busy downloading free books I've never heard of, from authors and genres I probably wouldn't browse in a book store. However, they were free, and can sit on my digital shelf without collecting dust, nor cluttering my house. And, if I don't get to them, oh well, they were free and not collecting dust.
So, what am I reading?
I just finished
When Women Were Warriors, Book I: The Warrior's Path
, by Catherine M. Wilson. I loved the writing of this book. It reads like a legend, being told by a storyteller. Of course, like any legend, it has a tendency to ramble, but it all comes back together in the end, and I really liked the writing. After downloading it (for free) I discovered this was part 1, of 3 books. After reading the reviews for the other two, I'm not sure I will purchase them. The first part, though it doesn't provide a neatly wrapped ending, ends it well enough for me to skip the other two.
Presently, I am reading
The Time Baroness
, by Georgina Young-Ellis. Dr. Cassandra Reilly, from the year 2120, travels back in time to 1820, to experience the Regency Age, several years after the death of Jane Austen. Since my Jane Austen kick, several years ago, my reading list is usually occupied by anything Austen related; present day, continuations and adaptations.
Which brings me to two other books on my list,
Georgiana Darcy's Diary: Jane Austen's Pride and Prejudice Continued
, by Anna Elliott, and
Charlotte Collins: A Continuation of Jane Austen's Pride
and Prejudice, by Jennifer Becton. If you have read Pride and Prejudice, or watched the movie(s), you will remember that Georgiana Darcy is Fitzwilliam Darcy's young sister, and Charlotte Collins is Elizabeth Bennet's best friend, who married the insufferable Rev. William Collins.
The Saturday Big Ten Wedding
, the latest installment from the
#1 Ladies' Detective Agency,
by Alexander McCall Smith, I am hoping, will soon make an appearance on my digital reading list. My name is on the library's waiting list for this book, so I am hoping to receive it in a couple weeks. What new mysteries will Mma Ramotswe solve, and will Mma Makutsi and Phuti Radiphuti ever have their wedding? (The title of this book is telling me that they will finally say "I do".)
Percy Jackson fever is running through our house, again. This time we are catching up with the latest series
The Heroes of Olympus
, by Rick Riordan. My son received
The Lost Hero
for Christmas, and
The Son of Neptune
is sitting on my digital bookshelf. Apparently there is a third book coming out sometime soon. JT has declared he will not read another book, by any other author, until that new one is published. Thankfully, he has found plenty to occupy his reading fever, but he is still anxious to read it.
That is only 6 books, but I will leave it at that. Usually, my lists are short, and I don't make it through them; however, since the arrival of the Kindle I have been reading more. On the flip side, I'm a visual person, and though I love my new, none dust collecting, digital book shelf, the six pages of books loaded onto the Kindle, plus what are in the archives, are overwhelming me. I need to see covers, spines, read dust jackets, to figure out what I want to read. So, hopefully, I will read more, but I need to look my list over, again, to figure out what those books will be.
What are you reading this spring season?