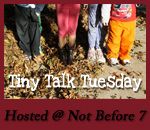 This Christmas season our weekends seem to have a theme. This weekend we will enjoy Christmas Party Weekend. The following weekend will be Celebrating Christmas Weekend. This past weekend was Christmas Program Weekend.
Leading up to Christmas Program Weekend was many, many practices. EM had the majority, between church and school. Apparently she has been keenly watching her music teachers, because she has spent the past few weeks conducting her stuffed animals. She had even created her own song books, complete with musical notes.
---------------------------------------
Then there was JT, who sang a duet in the church program. Because of his song he asked if he could wear a lapel mike. However, our church has only two lapel mikes and the two main characters needed them. After thinking this through he raised his hand and offered a solution:
JT: Let's take up a special offering and buy a third mike.
----------------------------------------
After the program Sunday night, it was time to leave for home and we were leaving the fellowship hall to gather our children (whom could be heard on the other side of the door.) Looking at Hubby I said something about rounding up the kids, he said something about hearing them, and a random lady said:
Random Lady: Your children are very entertaining.
:::crickets:::
Seriously? How do you respond to that; yes, yes they were very entertaining during the program, some of it unscripted. At the same, you know your children, along with other kids, have been running around the hall, playing, and have now moved (loudly) into the hallway. Seriously, how do you respond?
Happy
Tiny Talk Tuesday
. For more talking fun head over to
Mary's at Not Before 7
.