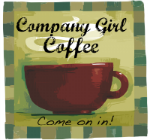 Welcome. Come in, have a seat. Excuse me while I keep packing. In a couple hours I'm living for a girlie weekend, yippee!
I've decided that this "busy" we have been experiencing the past few months is our new normal. With one project after another, along with daily living, I'm ready for a weekend away.
After Christmas our elementary school planned and hosted a carnival fundraiser (in a total of 8 weeks). Once the
carnival
was over we were painting the house (and still are), then there was
spring break
, we went to my parent's overnight over Easter weekend, I'm leaving this weekend, we are having a yard sale next weekend, 2 of our children have field trips within the next two weeks, a dance recital fast approaching, the kid's birthday party still needs to be scheduled, and then there is the day to day schedule stuff.
:::sigh:::
Oh yes, I'm ready for this weekend. While talking to one of the other women going I started to think how differently women plan a weekend away (especially when half of us are Type A) compared to a group of men. I wrote about it
yesterday
, with Hubby's help. When I suggested the "male point of view" he would tell me I was giving them too much credit. LOL!
Needless to say the
Small Things
have gone by the wayside, though I keep checking them every day. Rachel Anne's postings are like a short devotional for me, and unfortunately some days that is about all I get.
Today's Small Thing
was exactly what I needed, every day. I'm not a frugal girl by design (my Mom is snorting tea out her nose, "well that is putting it mildly" she is thinking.) I'm excited to read everyone's tips on streaching the old budget.
Well ladies, I'm off. Need to finish folding laundry, packing (thinking I need to repack in a biggere bag), check off my list and get the kids off the bus.
Yes, I'm so ready for a weekend of nothing!