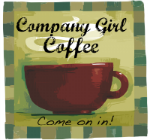 Howdy chicks. Come in, have a seat. I just finished a cup of french vanilla coffee, would you like some? Or, if you prefer I have tea or hot chocolate.
The last time I visited a
Company Girl Friday
the kid's school was holding a carnival fundraiser. Some of you asked to see pictures of the event. If you are interested click
here
for some pictures and information on the evening.
This morning has been a slow one. Once again I'm battling a cold, or maybe allergies considering the time of year. Either way I'm finding myself in a NyQuil fog while trying to get the kids off to school. I'm slowly waking up and plan on heading to the consignment store later this morning. A credit should be waiting for me; an Easter outfit.
Ahh, a new month of Small Things, and apparently Rachel Anne is working on a new look.
Head over
to check things out. On Tuesday I was all set to hand in my points for March when I realized my log was missing. So, this month, I'm hanging it on the fridge ... once I print it out.
Though, out of April's first three days I've only completed ... well umm ... I hope to complete today's, "simplify something." I'm all for the simple things in life. Yesterday's, filling up a garbage bag with donations or trash sounded like fun, but shelved this one for another day. Granted, I receive no points but I'm in the process of organizing our stuff for a yard sale in May. I already have several HUGE plastic tubs filled, plus piles of stuff in the guest bed room.
The play room will be going through a massive cleaning out, along with the rest of the house. I'm excited because all the proceeds will go towards reorganizing the play room. As the kids are growing so are their needs. We hope to put a desk in there, along with new storage items.
It has been great chatting. Thanks so much for stopping by. I'm off for some retail therapy and then to find ways to simplify my day. You are welcome to stay awhile longer, or head over to Rachel Anne's for more
Company Girl Coffee
.